We know it's called "The Amazing Spider-Man," but in all honesty, we think that the totally amazing part of those movies was Emma Stone.
The actress is our hypothetical best friend, quotable, cute and personable. Has she ever done anything wrong? Probably not!
Ahead, 26 facts that have us totally obsessed with Emma Stone.
1. She taught Woody Allen how to text
Yes, she's so powerful and charming that she even got an avowed luddite to use a touchscreen. Emma! UR kewl!
2. She's a psychic.
Whatever, just go with it.
3. She's not afraid to call out sexism, even when it's coming from her boyfriend.
At a Q&A, when Andrew Garfield called sewing "feminine," Stone stopped him cold. "Feminine how?"
4. She can make Colin Firth blush.
Getty Images
And she live-texts like a pro.
5. Her real name isn't Emma, but she totally owns it.
Buh...wuh...Emily?
6. She loves puns.
In a Vogue profile in which she visits Build-A-Bear with the writer, she drops both "exhi-bear-tionism" and "bear-ing all."
7. When she hides her face from cameras, she's doing it for charity.
Remember that time that she and Andrew Garfield just melted your heart with goodness?
8. She got her big break on a reality TV show.
Yep, she was first discovered on "In Search of the Partridge Family."
9. She brought holiday cheer to a military base...
...with Bill Murray!
10. She can sing and dance!
They don't just cast any slouch as the lead in a Broadway production of "Cabaret." And of course she's willing to share her moves.
11. She even has JLaw wrapped around her little finger.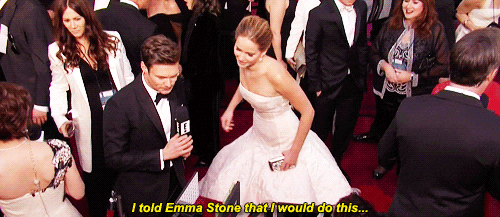 We'd do what she tells us too.
12. She inspires us.
Just try and watch her Trailblazer Award speech and not feel great about the world.
13. She has a power vested in her. (To marry you.)
Stone performed the 2012 marriage of her publicist and her now-husband.
14. Her face is so expressive, it's basically an emoji
Oh wait, it is an emoji.
15. She dressed up as Princess Leia to raise money for cancer research.
Cute shirt, cute face, good cause.
16. Ryan Gosling is, like, obsessed with her.
"She's everything, all the time," he said. "There's no one like her." We agree!
17. Sometimes, she shows up to the fashion event of the year dressed as a Disney character.
The cold never bothered her anyway.
18. She admits to her social media weaknesses.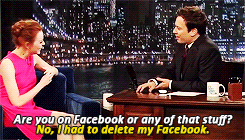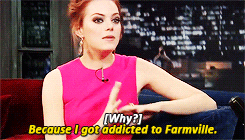 We've all been there.
19. She can take a joke.
Even if it's about feline urine.
20. Girl knows her Blues Traveler.
Suck it in, suck it in, suck it in.
21. She'll straight up lick a man's face for a laugh.
Like when she popped up on Garfield's "SNL" episode.
22. She's a Spice Girls superfan.
She cried tears of excitement when Scary Spice left her a message. Stars: They're just like us!
23. She's got swagger coming out the wazoo.
Like, just look at her.
24. She's bros with Taylor Swift.
Getty Images
Because of course.
25. She keeps those texts clean.
She probably has the same fear we do: What if your mom picks up your phone? What then?
26. She may be a natural blonde, but she's a kickass redhead.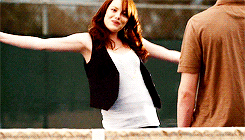 In summary...
All she does is win.