It's safe to say that most of us won't be hanging out with Jennifer Lawrence as she blows out her 24 candles today, but that doesn't mean she's not our celebrity BFF. And what do we do when our celebrity BFFs have birthdays? We have strange little satellite birthday parties themed to their tastes, of course.
That said, here's how you can totally JLaw up your birthday celebration. Happy birthday, Katniss!
Guest List
Your anonymous BFF
To save you from traffic cones and share your pizza.
Your publicist
To manage the crowds and reassure you that yes, you are supposed to be here. (And bring you pizza.)
Harvey Weinstein
You can't not invite Harvey. You don't want to know what happens when you don't invite Harvey.
Honey Boo Boo
A party guest worth nearly taking out innocent pedestrians for.
Josh Hutcherson
It's not a party without a Peeta pocket.
Prince Harry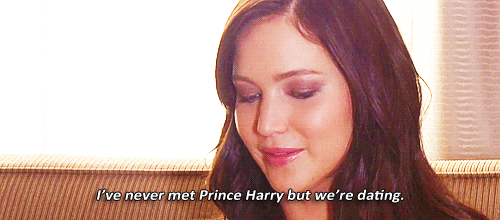 Best. Birthday surprise. Ever.
Snacks
Pizza
Chips
Favorite snack of tributes everywhere.
McDonald's
Yes, she would like fries with that.
Cake balls
You heard her.
Beverages
Only for those of age, of course.
Or, like, anything really.
Anything.
ANYTHING.
We're not messing around here. Don't run out of food. Just don't.
Decor
No stairs.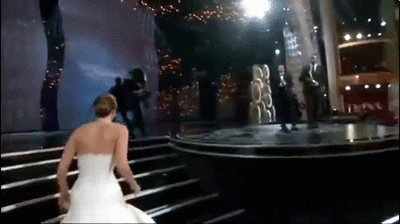 No cones either.
The danger is everywhere.
Everything else is pretty much fair game, honestly.
Games
Oscar Tug-O-War
Getty Images
You played this when you were a kid, right?
Cryface Olympics
Who can fake uglycry the ugliest? It's a rubberface battle royale!
Group selfie-taking
Pardon, it's an usie.
Pin Shoot the tail on the donkey
You didn't train with a bow and arrow for months for nothing.
Party Favors
Butt plugs?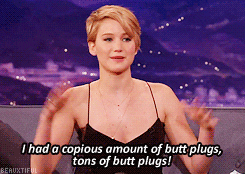 Use what you've got, is what we say.
Dress Code
There are only two options...
1. Dior couture
You can go fancy.
2. No pants.
Or casual.
Happy birthday, Jennifer Lawrence!