I highly recommend that all Azaleans in the room plant themselves firmly in the nearest chair. Why? Because as Iggy Azalea revealed on the "Today" show this morning, she will be performing "Black Widow" live at the 2014 MTV Video Music Awards on Sunday, August 24, alongside featured vocalist Rita Ora.
Related: Check Out Iggy Azalea's Neon "Today" Show Spandex
Oh my God, wait. The Rita Bots! Are you all OK? I humbly apologize for any broken bones and/or ruptured organs that may have resulted from my not properly cautioning you to brace for impact. Let's persevere, yeah?
Iggy and Rita join previously announced performers Beyoncé, Maroon 5, Usher, 5 Seconds Of Summer, and Ariana Grande on the VMA setlist. If I knew anything about sports, this is where I'd throw in some kinda sports reference. (Rosters...?)
Along with performing together onstage, the "House Of Style" host and the "I Will Never Let You Down" singer will join forces throughout the ceremony's broadcast to bring you real-time commentary on all things VMAs.
Related: Watch Iggy Azalea Host The "House Of Style" Premiere
Oh yeah, and Iggy's nominated for, like, a bah-jillion Moonmen. (Actual count: seven) In other words, you're going to be seeing a whole lot of her all night long. But just in case you're not totally up to speed on all things Azalean, don't worry. We've got you covered.
This is Iggy Azalea.
See Iggy walk work.
Work, Iggy, work.
Everyone and their mom and even their mom's OTT friend Shelley who def breaks for Anne Geddes baby photography is well aware of her breakout hit, "Fancy" featuring Charli XCX.
I mean, it's been on the Billboard Hot 100 for almost half a year, and it held #1 for seven consecutive weeks.
But Iggy's back catalog goes deeper than that.
And no, I'm not talking about her feature on Ariana Grande's "Problem."
Iggy's been work-work-work-work-working on her sh-t for years, releasing her first mixtape, Ignorant Art, in 2011.
Virgin EMI
Her first EP, Glory, dropped in 2012 under T.I.'s mentorship, followed by second mixtape TrapGold.
Then the countdown to her debut album, 2014's The New Classic, began. Watch her "Change Your Life" video below.
You know how "Fancy" referenced "Clueless"? "Change Your Life" pulled a similar move with Paul Verhoeven's cinematic masterpiece, "Showgirls."
As for Rita, Iggy's "Black Widow" collaborator dropped debut album Ora in the U.K. in 2012.
Roc Nation LLC
Since then, she's been be-YOND embraced by the fashion industry. Here she is with Katy Perry and Mia Moretti, front row at Moschino's fall/winter 2014 show in Milan.
Getty Images
And her second LP's on its way! Watch the "I Will Never Let You Down" video below.
Did I forget to mention that Rita's starring in the film adaptation of "Fifty Shades Of Grey"?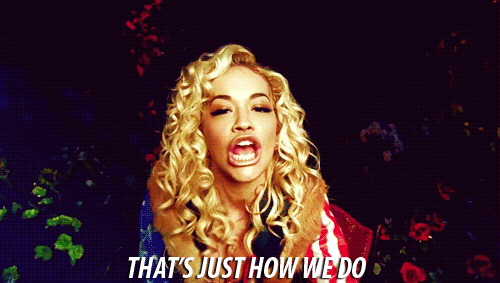 Oh, and she's hugged Beyoncé. ಥ_ಥ
Instagram
Back in April, she told us that "Beyoncé gives the heavenly hugs of a goddess." Literally screaming.
Noted Beyoncé stan Iggy Azalea would no doubt appreciate this.
Will Iggy and Rita get to hug Bey at the VMAs? Will the world be ready for their "Black Widow" performance? We'll just have to wait and see.
Wanna know Iggy's favorite curse words? What about her deepest, darkest style secrets? Catch "100 Things About Iggy Azalea" this Sunday, August 10, beginning at 11/10c ET on MTV!