You guys! Our TV BFF (sorry, Liz Lemon, but your show still has to be on the air for you to earn that honor) Mindy Kaling is going to announce the nominees for the 66th Annual Emmy Awards alongside Carson Daly.
Normally we'd be all zzzz, because, hi, the nominations ceremony is on at 8:40 a.m. Eastern, which translates to 5:40 in the gosh darn morning on the West Coast, but a. Mindy is our girl, and b. we're really, really, really hoping that we'll get to see her announce her own Emmy nomination. Or, if the category (for show, writing or acting) is one that Carson is reading, we get to see her reaction in real time. We can't even decide which scenario we're hoping for.
And, of course, if Min gets a nom, we'll be all like: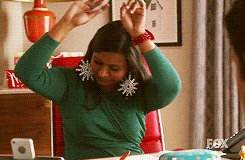 The Emmy nominations will be announced July 10 at 8:40 a.m. The Emmy Awards, hosted by "Mindy Project" hook-up Seth Meyers, will air August 25 at 8 p.m.