As you may or may not already be aware, today, June 4, is National Hug Your Cat Day: a day designated for the national hugging of cats all over America.
And in honor of this very important holiday, MTV News has rounded up a showcase of the eleven famous people most likely to be celebrating it. If you're not sure how best to hug your cat today, let one of these celebs show you how to do it. Every single one of these people is probably hugging a cat right this minute.
Katy Perry
Robert Downey Jr.
Channing Tatum
Taylor Swift
Chris Colfer
Dave Franco
Jennifer Lawrence
Kristen Stewart
Ian Somerhalder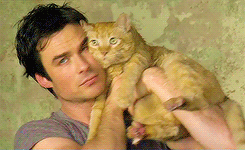 Hugh Jackman
And Jared Leto, who isn't above finding a cat substitute when there's no actual cat available for hugging.