by Shaunna Murphy
Clark Kent. Veronica Mars. Lucy from "7th Heaven." The Flash. What do these four modern icons have in common? Well, besides all being featured in shows on The CW network, they all have (or had, sad face) really sexy dads.
The Flash (Barry Allen, if we're being proper) finally got his pops on Tuesday (May 27), when The CW released a statement confirming that John Wesley Shipp — who played The Flash in the short lived '90s series, as well as Dawson Leery's dad — would return to the franchise as Dr. Henry Allen.
"Given his history with 'The Flash,' [executive producers] Andrew [Kreisberg], Geoff [Johns] and I could only think of one person we wanted to play Barry's father and that was John Wesley Shipp," executive producer Greg Berlanti said in a statement. "He gives a fantastic and emotional performance in the pilot and we are looking forward to his presence in many more episodes."
So are we! But all of this buzz about Shipp's casting got us thinking about the real, hard-hitting questions — like, for example, where will Henry Allen rank when it comes to The CW's hottest all-star dads? There are so many to choose from already! Will he be a legend like Jonathan Kent, or a short-lived monster like King Henry II?
A team of expert scientists* hit the CW archives** to help tackle this serious issue, and eventually came up with a definitive list of the eleven hottest dads in CW history. Science.
Honorable Mention: Klaus Mikaelson (Joseph Morgan), "The Originals."
We only got to see him play dad for approximately two minutes, but it was a gut-wrenching two minutes. "Hope"-fully Klaus and his daughter will eventually reunite, though a werewolf-run French Quarter is not exactly an ideal place to raise a child.
11. Mikael Mikaelson (Sebastian Roché), "The Vampire Diaries/The Originals."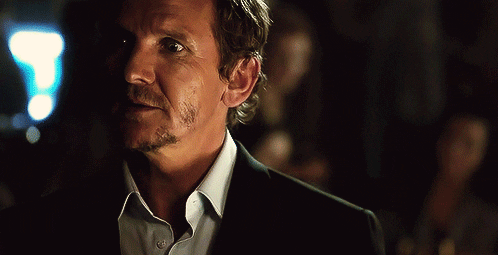 To be clear, we do not in any way condone trying to murder your five vampire children. But we do condone rocking a suit like Sebastian Roché.
10. Ethan Conant (Adam J. Harrington), "The Secret Circle."
The show was short lived, but Harrington made his turn as the town drunk (who was also a witch) quite memorable — whenever he showed up onscreen, we couldn't help but wonder if the show was focusing on the wrong generation of witches.
9. Tom Bradshaw (Matt Letscher), "The Carrie Diaries."
You try raising two teen girls all by yourself! Especially when one of them is Carrie. Tom Bradshaw did the best he could, and undoubtedly looked extremely handsome while doing so. Unfortunately, Letscher loses points for being so creepy on "Scandal."
8. Keith Mars (Enrico Colantoni), "Veronica Mars."
Okay, so he was more the goofy, balding dad than the sexy silver fox dad. However, Keith Mars is a legend in the parenting department. Not only was he a skilled private investigator with impeccable taste in music and movies, he was also one of the most devoted dads to ever hit the small screen — so it's really no surprise that he raised a rock-solid woman like Veronica. Well done.
7. Christopher Hayden (David Sutcliffe), "Gilmore Girls."
At the opposite end of the spectrum was Christopher Hayden, who abandoned his daughter to live out his bad-boy single life. He eventually turned it all around and came back to woo Lorelai, and his inherent hotness was almost enough to woo us away from Team Luke. Almost.
6. Eric Camden (Stephen Collins), "7th Heaven."
When you have seven children, hopefully you pick up a thing or two in the parenting department (though the way he handled the joint incident was questionable). The Reverend Camden was a caring and involved father, and the fact that he was a stone cold dad-fox didn't hurt.
5. Quentin Lance (Paul Blackthorne), "Arrow."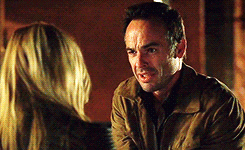 When his wife peaced out after their daughter Sara's apparent death, Detective Lance stuck around and was there for his older daughter, Laurel. He also welcomed Sara back into his life with open arms, even though she'd become a cold-blooded, boyfriend-stealing assassin. If he's dead, we riot.
4. Jonathan Kent (John Schneider), "Smallville."
He had that whole sexy farmer thing going on. We were bummed when he died.
3. Malcolm Merlyn (John Barrowman), "Arrow."
Those piercing blue eyes! That smile! That... tendency to be the face of evil? Okay, so he's not a great dad or person, but Barrowman is just so damn wonderful and enigmatic in every single way that we love him anyway. Is anyone else psyched to see what Malcolm has in store for Thea next season?
2. Rufus Humphrey (Matthew Settle), "Gossip Girl."
His son ended up being an emotional terrorist who spent six seasons torturing his friends, but we don't blame Rufus for that. He totally nailed that sexy starving artist/failed rock star thing, and was always there for Dan and Jenny even when they were terrible (which was most of the time). He also had great hair.
1. John Winchester (Jeffrey Dean Morgan), "Supernatural."
It was never even close. Sorry, everyone else. This man created the demigods that are Sam and Dean Winchester, then went to Hell to save them. Case closed.
What do you think, fellow CW fans? Are you excited for John Wesley Shipp on "The Flash?" Do you agree with these rankings? Let us know your thoughts in the comments!
* Just me, actually
** Searched for shirtless GIFs of Jeffrey Dean Morgan on Google