Like any human being, Jennifer Lawrence sometimes gets the hiccups. But unlike any human being, she gets the hiccups in Cannes, in front of thousands of people, which is why we now know exactly how she goes about getting rid of them.
A Vulture reporter just happened to be passing by Lawrence and her posse at Vanity Fair's Cannes International Film Festival party, and witnessed the hiccuping Oscar winner calling urgently for water to cure her diaphragmatic spasms. But unlike us mere mortals, Jennifer Lawrence does not simply drink water to rid herself of hiccups. She drinks water held by her co-star/bestie Josh Hutcherson, with her arms first over her head and then lowered very slowly to her side.
Jennifer's method sounds like a version of various water-drinking, body-contorting, breath-holding hiccup cures (e.g. my family's preferred practice is drinking water upside-down from the opposite end of a glass with your fingers in your ears), but compared with most hiccup-resolving incidents, the conclusion of this one was wildly dramatic. After a moment of suspense while the actress waited to see if the hiccups would return:
"She and Hutcherson locked eyes and hugged," Vulture reported. "They'd beaten it."
Wait, why does this scene sound so familiar?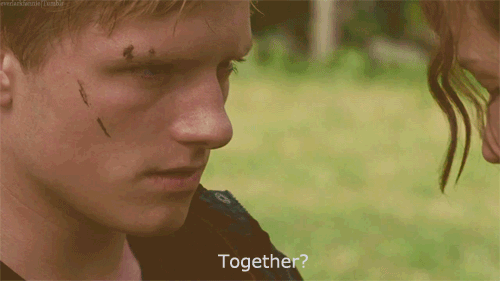 OH MY GOD YOU GUYS. It's real!