Miley Cyrus is too weak to leave the hospital and resume her Bangerz tour. But don't get it twisted: she still has a lot of fight in her and she's not putting up with any of your mess.
"Shut the f--- up & let me heal," she wrote on Thursday, seemingly in response to the rampant speculation on her health and what landed her in a hospital earlier this week. "So many ignorant stories out there no one is reading the official statement and these dumb asses are scaring my fans."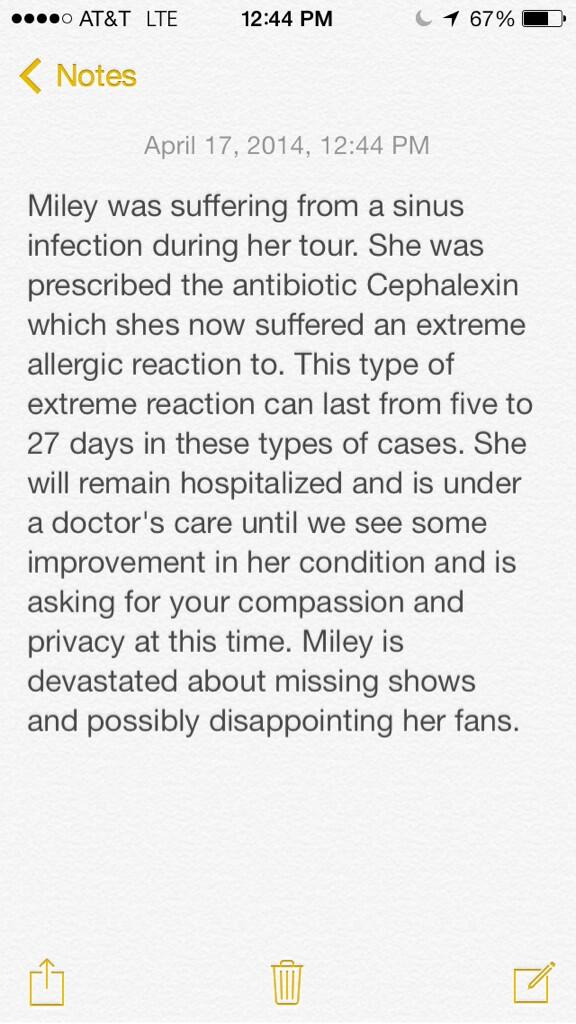 Cyrus has been forced to postpone two shows
 this week as a result of what a note she posted describes as an "extreme allergic reaction"
 to an antibiotic prescribed to treat a sinus infection. "This type of extreme reaction can last from five to 27 days in these types of cases," read the statement. "She will remain hospitalized and is under a doctor's care until we see some improvement in her condition."
The singer has been vocal about how bummed out
 she is to be laid up and disappointing fans in Kansas City and St. Louis. On Friday morning (April 18) she said she's "sick of waking up to needles," but that she's just trying to get through it.
sick of waking up to needles 💉💉💉#goingthruit #floydfriday 😿😿😿

— Miley Ray Cyrus (@MileyCyrus) April 18, 2014
A rep told Billboard that tonight's show in Nashville and a planned Saturday show in Louisville, Kentucky, have been postponed and will be rescheduled. Her next scheduled date is on Monday in Philadelphia.
Due to a severe allergic reaction, Miley Cyrus' show is POSTPONED to August 9. Tix honored for new show or refunded http://t.co/QXxWPEXJYV

— KFC Yum! Center (@kfc_yumcenter) April 17, 2014