After hearing about the possibility of Jay Z and Beyoncé's joint tour, we freaked, then paused, and then went to the Internet to take as many doses of Jayonce possible. We've got to prepare for the bad-assery of the Mr. & Mrs. Carter Tour, which is supposedly starting in June and hitting 20 cities across the U.S.
Here's what we found while soaking up their Carterness this morning:
1. Crazy In Love

Bey Instagrammed this pic a few days ago, and it brings us back to 2002, when the pair shot "Crazy in Love" together.
2. Matching Denim

Look at them getting matchy-matchy wearing jean while performing "'03 Bonnie and Clyde" on "TRL."
3. Getting Crazy At The VMAs

Remember when they got all frazzled and fierce in 2003?
4. Fashion Killas

They've had some good style moments too. Um... just look at them at the 2004 VMAs.
5. All-White

Bey joined Jay onstage at his Radio City concert in 2006, again, sporting matching outfits.
6. Can Your Wife Do That?

Yonce does a backbend at 2006 BET Awards while performing with her then-boyfriend.
7. 'Déjà Vu' Video

Bey danced frantically around Hov in this video. My head's spinning now.
8. Jay Has Dancing Skillz Too

You know, Beyoncé doesn't have all the moves.
9. Lemme 'Upgrade U'

Nothing says "successful relationship" more than dressing up like each other (hey, it worked for Jenna and Paul on "30 Rock."). Bey threw on some shades a white T to impersonate Jay while she twerked next to herself.
10. The Couple Who Has Fun Together Stays Together

Heyyyyy!
11. Fist bump

They're on each other's team. ADORABLE.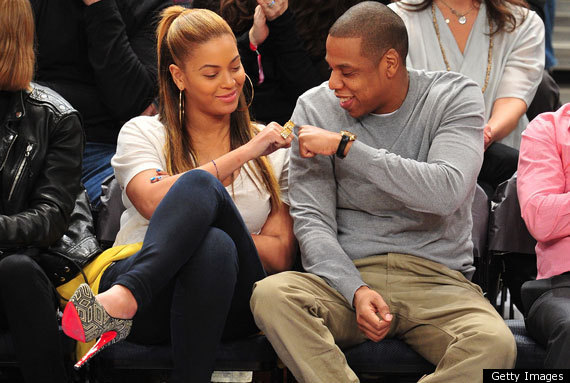 12. Deuces Up For Coachella

On the same day they take the stage together, they post for a snap in 2010.
13. Always Connected

The couple lean on each other... even in concert.
14. Baby On The Way

In one of the most shocking moments of VMA history, Queen B wrenched open her blazer after performing "Love On Top" to rub her baby bump in 2011.
15. Head Of State

Before Beyoncé sang the national anthem at President Barack Obama's inauguration, they got all fancy and strode down this lavish carpet in 2013.
16. Any Questions?

Beyoncé (and a reunited Destiny's Child) got red-hot at the 2013 Super Bowl, as Jay Z looked proudly on.
Lights out!!! Any questions??

— Mr. Carter (@S_C_) February 4, 2013
17. That Time They Caused A Stir From Cuba

Jayonce had no worries waving to fans in Cuba. Except for one thing... Americans can't be in Cuba.
18. Blue Ivy

It wouldn't be a complete Jay/Bey list without the very progeny of the artists: Blue Ivy Carter.
19. Made In America

The couple shared a quick moment at Jay's Made in America festival in Philadelphia last year.
20. Getting Intimate

They were in the moment at this year's Grammy Awards. I wonder what he was whispering in her ear.
21. That Grammys Performance Tho

So sensual.
22. They Dieted Together

Before Hova's 44th birthday, the two embarked on a 22-day vegan challenge.
23. And Now A Tour?!

You got it.