When you have an amazing, hilarious host for the MTV Movie Awards like Conan O'Brien, you can expect one thing: the unexpected. If you expect two things or more, though, here are some of the other things you might expect:
An Epic Opener

Not that we're going to drop any spoilers, but we've heard from a little red-headed bird that the opening to the Movie Awards is going to be huge. This is one you'll want to watch live.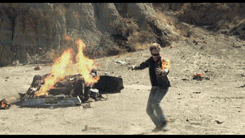 Fire

In the tradition of MTV stars like Beavis, Conan will be bringing fire to the Awards, with multiple explosions and nearly everything (on stage) getting set on flames. O'Brien has promised that at the 40 minute mark he will be seriously injured by the fire, so look forward to that.
Amazing Parodies

Conan is an old hand at the art of the movie parody, and the ones from MTV Movie Awards past are classics. Put the two together, and you've got movie-making-fun-of magic.
My name is Conan and... I'm into Thor cosplay. @MTV #MovieAwards pic.twitter.com/jVMCAOmdOo

— Conan O'Brien (@ConanOBrien) April 13, 2014
Something With Thor

Speaking of parodies, we're getting the weird feeling something will involve the mighty Thor.
A Duet With Eminem

As revealed earlier, Eminem will perform selections from Broadway musical "Guys & Dolls" with Conan. We do have a picture we photoshopped of this happening, so it must be true.
Hittin' On The Ladies

With so many babes in attendance, the notoriously randy Conan is sure to point out some of the hotness in the audience. Hopefully he points out some of the beefcake as well as the cheesecake; and maybe some of the sponge cake, too. We'll leave it to you to figure out just what sponge cake is (hint: it's blobs in humanoid form).
Nudity

O'Brien has sworn that he will get naked on stage, and as we know he's a man of his word. Will the lights glint hideously off his pasty white body, blinding the audience? Yes.
A Broken Record

No, Conan isn't going to repeat himself ad nauseam. We mean he's literally going to try and break a world's record during the show. Will it be for eating a bicycle? Our lips are sealed — mainly because we don't want anyone to feed us a bicycle.
The Release Of The Secret Hemsworth Brothers

He's already demanded the release of Liam and Chris' secret brothers from the government facility they're being held in. Here's hoping he finally manages to rescue good old Franz Hemsworth, Borgnine Hemsworth and all the rest during the show.
A Crossover With Zedd

We've already predicted that Conan will cameo during Zedd's big performance; now it's time for Zedd to cross over and help Conan host the show.
String Dance

If all else fails, it's pretty much guaranteed Conan will pull out the old string dance.