Here's what we know: Jared Leto is totally coming to the MTV Movie Awards on Sunday.
Here's what we don't know: Which Jared Leto is going to show up.
Contrary to popular belief, there isn't just one Jared Leto in Hollywood. Photographic evidence gathered over the years shows that the man known colloquially as "Jared Leto" is a multifaceted amalgamation of no less than three hundred distinct individuals, each with their own particular fashion sense, attitude, and personal aesthetic... albeit all with the same enormous blue eyes that hold all the secrets of the universe. So, which Jared Leto might we encounter on our red carpet tomorrow? Let's check out the top contenders.
Jordan Catalano
The choker. The flannels. The shearling coat. Will Sunday night finally mark the return of everyone's favorite 1990s crush? (One can only hope.)
The Mama's Boy
A more recent look, in which Jared's most important red-carpet accessory is his beloved mother.
Punk Rock Leather Lad
Once upon a time, Leto's colorful punkwear could've given Rayon a run for her money.
The Shirtless Aviator
Remember the shades, forget the shirt, and prepare to party all night.
The 'Stache
His role in "Prefontaine" has been all but forgotten, but the spectacle of Jared sporting full shag'n'stache? NEVER. And it could still make a longed-for comeback on Sunday.
His Blondness
Not his best, but let's be honest: Albino Cyborg Dentist chic is a hard look for anyone to wear.
Children of the Cornrows
If you thought this was a picture of James Franco from "Spring Breakers," you're not alone... but you're wrong.
Fur Baby
Any self-respecting woodland creature would lay down his life to lie on those shoulders. (It's faux, though.)
Attention, Whole Foods Shoppers
We hope you brought enough sprouted bread and bean curd to share with everyone, sir.
Bleachey Biker
It's derelicte, y'all.
The Supreme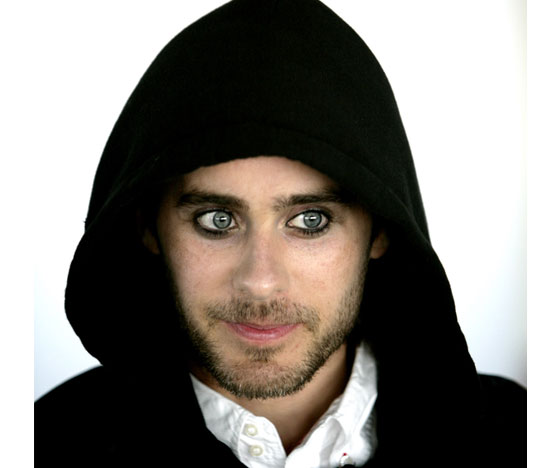 This look would also be right at home at Miss Robichaud's school in New Orleans, but it's oh so red-carpet ready.
"That's Not Jared Leto"
Meanwhile, let's hope that this version of Jared continues to lurk behind a tree in the year 2007. Forever.
The Oscars Ensemble
The actor called this look "sexy Jesus." We say, "Amen."
The Big Boy Outfit
Left to his own devices, Jared sometimes reminds us, in the best way, of what happens when an adventurous kindergartner gets to choose his entire outfit.
But Seriously, Jordan Catalano
Please. Thank you. THANK YOU.