Eminem and Rihanna have a very impressive track record when it comes to owning the stage at awards shows, and since the "Monster" collaborators are reuniting for a joint performance at the 2014 MTV Movie Awards, it seemed like the right time to take a look back at some of their best awards show sets.
Eminem at the 2000 MTV VMAs
Let's just go ahead and call this one what it was: One of the most memorable awards show performances of all time. In 2000, at the height of Shady mania, Eminem took over the VMAs for a mind-bending performance of "The Real Slim Shady," and "The Way I Am," that included hundreds of Marshall look-a-likes who swarmed Radio City Music Hall. That was the closest he ever got to bringing one of his music videos to life.
Eminem and Elton John at the 2001 Grammy Awards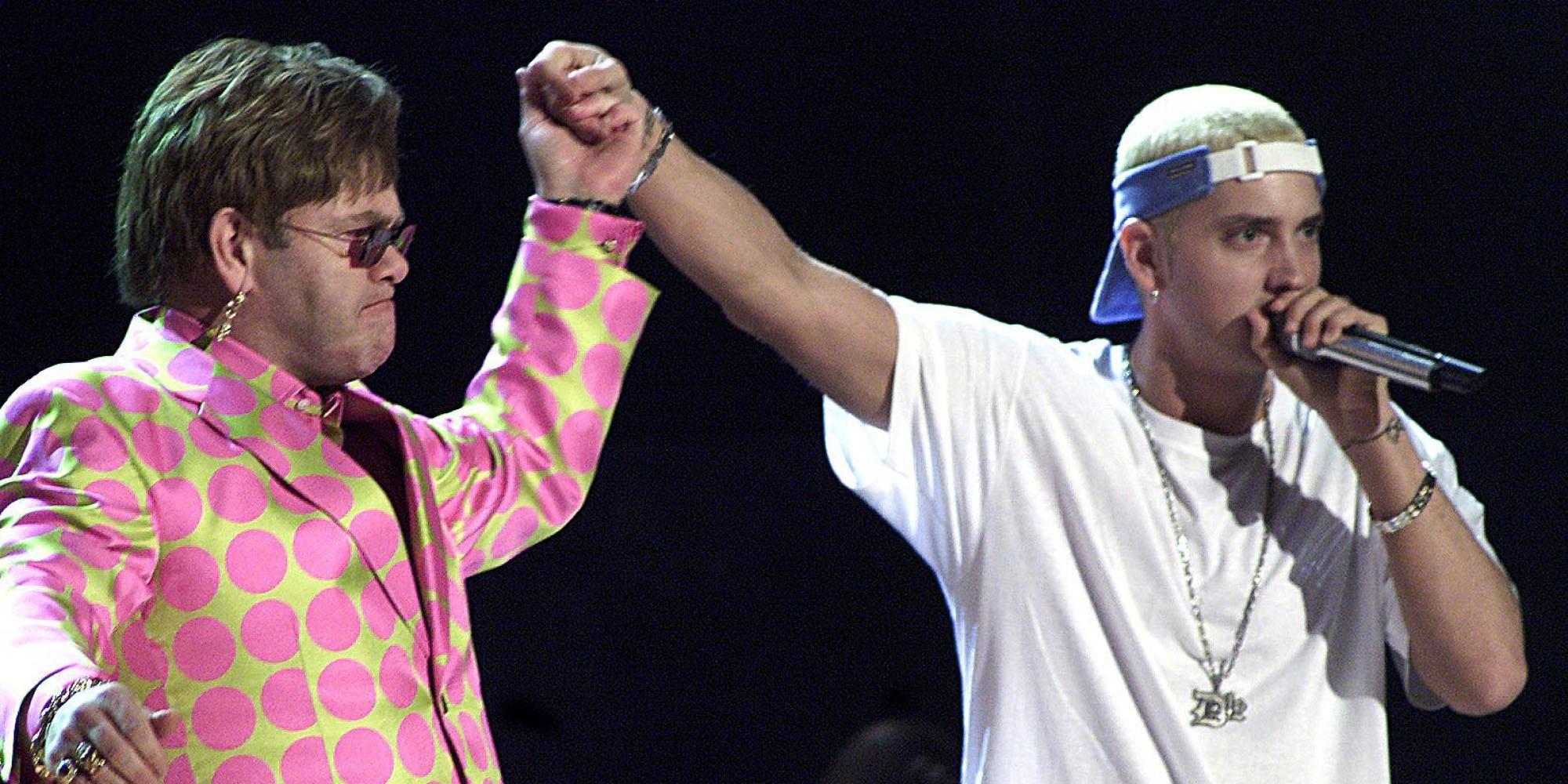 Eminem's fans have watched him evolve over the past decade, and one of his finest moments came during a duet with Elton John at the 2011 Grammys. The Detroit rapper has dealt with plenty backlash for his homophobic lyrics, so imagine the reactions when he took the stage with the openly gay performer to deliver the emotional track "Stan."
Rihanna at the 2008 MTV VMAs
Remember when Rih made it official that she was a Good Girl Gone Bad? Well, if you don't, refer to her 2008 performance at the Video Music Awards. The Roc Nation star put that squeaky clean pop star image behind her, and brought out the leather for a mash-up of "Disturbia" and "Seven Nation Army."
Rihanna and Eminem at the 2010 MTV VMAs
Before "Monster," Rih and Em worked together on "Love the Way You Lie," and in 2010 they brought the song to life with a fiery performance at the Video Music Awards. Eminem kicked off the performance with his hit "Not Afraid" in front of a skyline backdrop before Rihanna joined him on stage in her ballerina outfit and flaming red hair.
Eminem, Rihanna, Dr. Dre and Skylar Grey at the 2011 Grammy Awards
It was a family affair at the 2011 Grammy Awards, when Em brought a few of his favorite collaborators to help him rock the stage. Rihanna opened up with "Love the Way You Lie," and Skylar Grey and Dr. Dre both showed up for "I Need A Doctor." Yes, Dr. Dre actually showed up to perform.
Rihanna, Drake and Kanye West at the 2011 NBA All-Star Game
OK, so maybe this one isn't technically an awards show, but with all that star power, it might as well be. Rih hit the stage to perform at the All-Star game halftime show and brought along two of the biggest names in hip-hop...just because she could. After flirting and dancing it up onstage with Drake for "What's My Name," Kanye West showed up in all-red-everything for "All of the Lights."
Rihanna And Mikky Ekko at the 2013 Grammy Awards
Most Rihanna performances involve barely there outfits, dancers and plenty of energy, but her 2013 Grammy set turned things down a couple notches. Rih kept it simple in a flowing black gown as she belted out the Unapologetic single "Stay" with some assistance from Mikky Ekko. The singing was all that mattered here.
Catch Eminem and Rihanna performing at 2014 MTV Movie Awards, hosted by Conan O'Brien, Sunday, April 13 @ 9/8c. Get ready for the show with exclusive MTV Movie Awards Takeover movie previews. Then, during the 2014 Movie Awards show, watch our All-Access MTV Movie Awards Live Stream on MTV.com.