Now that we know the four young actors set to star in Fox's "Fantastic Four" reboot, a new question emerges: Who will play the villain?
It's been reported that Doctor Doom, the classic "Fantastic Four" antagonist featured in both of the previous (and critically maligned) films in the series, will once again face off against Marvel's first family in the upcoming reboot. Previously, it appeared that Fox was considering high-profile female actors for the part. Now, five new names have emerged that are very different from what we'd been led to believe. Here they are:
Sam Riley

Best known for starring opposite Kristen Stewart in "On the Road." He starred in the film as Sal Paradise, the narrator of the Jack Kerouac classic. He also has a starring role in the upcoming "Maleficent" opposite Angelina Jolie.
Domhnall Gleeson

Best known for playing Bill Weasley in the "Harry Potter" film franchise, even though he was a lesser-known quantity in the Weasley family tree. (He's the one that turns into a werewolf, remember? Yeah, it's a big family.) His scarred visage as Weasley looks rather Doom-like, if we may say so ourselves.
Toby Kebbell

Soon to be best known for starring in "Dawn of the Planet of the Apes," director Matt Reeves' sequel to the surprisingly great "Rise of the Planet of the Apes." He's also slated to appear in "Warcraft," the video game adaptation directed by Duncan Jones. He also did some crazy shenanigans in Guy Ritchie's "RocknRolla," but you're forgiven if you passed on that one.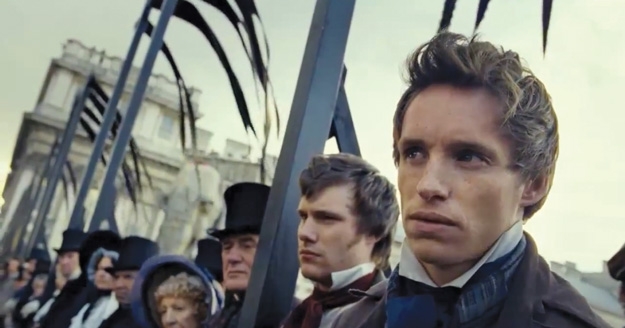 Eddie Redmayne

Best known for playing romantic rebel Marius in "Les Miserables." He was also once a contender to play Star-Lord in Marvel's upcoming "Guardians of the Galaxy," before the role went to Chris Pratt.
Jack Huston

Best known for playing the half-faced assassin Richard Harrow on "Boardwalk Empire." Like Redmayne, he was once a candidate for Star-Lord in "Guardians of the Galaxy." However, The Wrap's report on the Doctor Doom contenders states that Huston is potentially out of the mix already; consider him the dark horse pick.
In fact, consider all of these actors as dark horses, until further notice. "Fantastic Four" begins shooting soon, so a choice will come in due time. But until Fox makes an official announcement, it's best to approach these rumored candidates as you would approach a Doombot: Potentially worth taking seriously, potentially super-fake.
Of these candidates, who do you like for the Doctor Doom role?