The night for McConaughey began curiously, with a questionable tweet from the Just Keep Livin' Brand Twitter feed. The clothing line that benefits the charity McConaughey started tweeted this punny play on the title "Dallas Buyers Club."

Anyone else fixing themselves a Dallas Buyers Club Sandwich in preparation for the big show? #OTRC #Oscars pic.twitter.com/mfuDawWaJ6

— JKL Brand (@JKLBrand) March 2, 2014
Then the man himself arrived, looking classically stylish in his white tuxedo jacket.

Thank you Matthew McConaughey for the reminder that no matter how expensive, white tuxes will ONLY make you look like a waiter.

— Daniel Fienberg (@HitFixDaniel) March 3, 2014
Has McConaughey learned nothing from True Detective? He and his wife should have had their stories straight before going into box w/Seacrest

— Josh Wolk (@JoshSWolk) March 3, 2014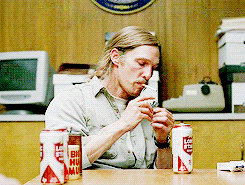 Honk if you wish McConaughey had worn the True Detective ponystache combo tonight. #honkhonkhonk

— Kat Rosenfield (@katrosenfield) March 3, 2014
Once the ceremony started, the next time any of us saw Mr. McConaughey, he took to the stage with "Vertigo" star Kim Novak to present Best Animated Short and Best Animated Feature.

Honestly though, who better to keep Kim Novak on-book than stern taskmaster Matthew McConaughey?

— Vulture (@vulture) March 3, 2014
McConaughey returned to the stage late in the night to collect the statue that many predicted he'd win. The McConaissance peaked at the Academy Awards when he won the Oscar for Best Actor for "Dallas Buyers Club."

It was a hell of a night, and true to his word, McConaughey summed it up best.

"All right. All right. All right."