If you're looking to plan a perfect Valentine's Day celebration, there's no need to burn out your head attempting to come up with something from scratch — just grab a little inspiration from these celebs. Whether you're single, coupled, or broken up and bitter about it, the good folks of Hollywood know just how you can get the most out of our February 14. Just pick your emotional status from the list below, and go!
Help Us Choose The Ultimate Love Song!
Looking For A Wild Valentine's Night?
Make like Miley Cyrus, and go out on the town in your craziest outfit with a foam finger as your date. (What you do with the finger is up to you, but beware: its dad may not approve.)
Ready To Make A Commitment?
If an engagement is in the cards for you, Kanye West can show you how it's done. A jumbotron proposal of marriage makes for a crowd-pleasing start to the rest of your lives.
Girls, Just Want To Have Fun?
Amy Poehler and her brilliant Galentine's Day initiative have you covered! Just let your February 13 gal-pal party turn into an all-weekend ladies' bender. Leslie Knope would be so proud.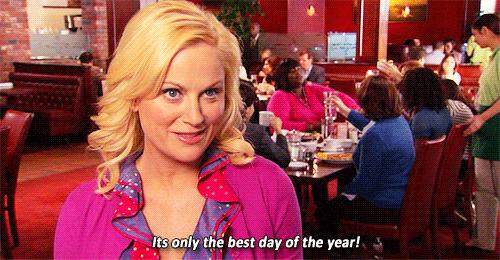 Single And Loving It?
So is Taylor Swift, and you can't go wrong with her approach to a solo Valentine's Day. Just surround yourself with friends, get a fabulous new haircut, and if you've still got some time at the end of the day, write a vengeful song about your stupid ex.
Need To Make Amends?
If you're hoping to make things right with a love gone wrong, you're in luck: Shia LaBeouf has paved the way for you all week long. Just pop a paper bag on your head, grab a good apology hashtag, and get to work showing what a balls-out lunatic how very, very sorry you are.
Are You Part Of The Perfect Couple?
Beyoncé and Jay Z are your Valentine's spirit animal. Celebrate your fantabulous, photogenic romance by donning your best couture outfits and going on a highly Instagrammable date — and end your night with a good old-fashioned game of grab-ass. Everyone will love to see you in love.
Do You Want The World To Know How You Feel?
Follow in the footsteps of Neil Patrick Harris, who's always demonstrating his love for fiancé David Burtka in the most delightful ways. Just compose a sweet tweet, tag your beloved, and let the inter-sparks fly.
Or Do You Want The World To Know How You, Um, Y'know, Feel?
If you're feeling a tad exhibitionistic this Valentine's Day, there's no shortage of celebrity sexters from whom you can take a cue. But the woman who wins it all has got to be Mariah Carey, who not only sends spicy photos to her husband, but sends them over the public wires instead of via text. Meow.
Happy Birthday to my Hubby @NickCannon…"my baby I'm waiting on youuuu"hahaha! KKLB! GHL!!!! Mwah !!!!!😘 pic.twitter.com/y2lHWCo6A4

— Mariah Carey (@MariahCarey) October 8, 2013
Reeling From A Recent Heartbreak?
When it comes to catharsis, Justin Bieber knows all about blowing off steam. Just stuff your face with illicit substances and go egg your neighbor's house! …Or not. On second thought, maybe just eat a bunch of eggs and beat up a pillow or something.