It's no secret that Lady Gaga is a huge fan of the "Real Housewives" franchise. She admitted last September that she's hooked on "all the cities" during a visit to Bravo's "Watch What Happens Live."
Well, it sounds like she made her "Real Housewives" superfandom into a reality recently when she got together with the Beverly Hills cast to film a top secret music video. According to US Magazine, Gaga shared a soundstage with Lisa Vanderpump, Kyle Richards, Kim Richards, Brandi Glanville, Yolanda Foster, Joyce Giraud de Ohoven and Carlton Gebbia during the shoot.
The video was reportedly filmed just after the recent "Housewives" reunion, though a spokesperson for Gaga's label could not be reached at press time for additional details.
So, after ditching "Venus" and failing to launch
 the clip for the R. Kelly duet "Do What U Want,"
 that leaves us wondering what single Gaga might be promoting with her platinum-plated new besties?
Some possibilities:
"MANiCURE"

This seems like the most likely choice. The banging dance rock tune is all about the kind of pampering Brandi and the gang know all about. "Put some lipstick on/Perfume your neck, and slip your high heels on/Rinse and curl your hair/Loosen your hips and get a dress to wear," Mother Monster sings.
Like Gaga, if anything, the "Housewives" are just "addicted to love."
"Fashion"

Again, if the "Housewives" know anything it's all about "looking good and feeling fine" and being a slave to fashion. They also step into every room like it's a catwalk (or a catfight, whatever), live to display their diamonds and pearls, hoard designer dresses and couture and, well, what sums them up better than, "I own the world, we own the world?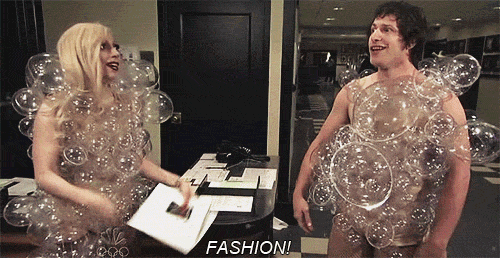 "G.U.Y."

It's a long shot, but there's a chance the video could also be for the new-age feminist dance floor anthem whose title translates into "Girl Under You" (or "Go Under You" depending on who you believe.)
Gaga has said that she feels a sense of power in submitting to a man, though lines like "I'm gonna wear the tie, the power to leave you/ I'm aiming for full control of this love" might be more appealing to the tough-as-acrylic-nails ladies of Beverly Hills.