Lorde still can't believe she took home two Grammy Awards on Sunday. And as a "thank you," the 17-year-old wrote a handwritten letter that was published in the New Zealand Herald on Wednesday (January 29).
"Hiya. If you are reading this, [producer] Joel [Little] & I won. HOLY CRAP," the letter reads, which also includes a sketch of a Grammy trophy. "It was a crazy day & my friends and family over here are still freaking out. I just wanted to say thank you for the time you've given me these past 14 months. Finding out about me online or in between these pages or in your headphones.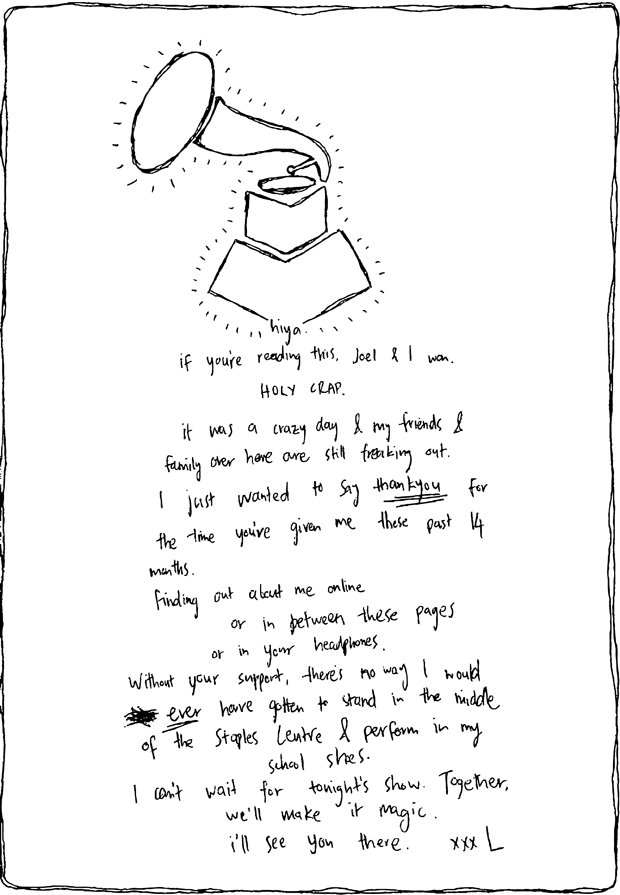 "Without your support, there's no way I would ever have gotten to stand in the middle of the Staples Centre & perform in my school shoes," she continued. Lorde took the stage on Sunday night to perform her breakthrough hit, "Royals," complete with witchy posturing and black-tipped fingers.
"I can't wait for tonight's show," she closed out the note, referring to her Wednesday night gig at the Silo Park in New Zealand. "Together we'll make it magic. I'll see you there. xxx L"
The letter comes hot on the heels of a paparazzi run-in she had at the airport in New Zealand when she landed in her home country after her trip to L.A. for the Grammys. The singer published a number of tweets calling out the frenzied photographers, although those tweets were later deleted.
"[NZ] media almost pushed over myself and my family at the airport this morning in order to get their shots. bit of a sad welcome if i'm honest," she wrote.
She continued, "There is a difference between attn from fans, which i love, and the constant, often lecherous gaze that i'm subjected to in this industry. I know that success comes with a price tag. it just sucks when you see that in your tiny home country where you previously felt safe."
However, the frenzy around the teen star seems unlikely to slow down anytime soon. She's slated to take the stage at the Brit Awards. For the upcoming performance, she will be joined by Disclosure, according to The Hollywood Reporter. Disclosure are up for four awards, while Lorde is nominated for International Female Solo Artist. The show takes place on February 19 at the O2 in London.