Warning: spoilers ahead for the January 22 episode of "The Mindy Project." Also: high-pitched squealing.
It's cool, don't mind those barking dogs running through the streets — they can't help but respond to the high-pitched sounds fans of "The Mindy Project" are emitting after Tuesday night's mid-season finale.
In the fine tradition of 'will they or won't they' TV pairings, a well-timed bit of turbulence on an ill-timed trip to Santa Fe ended up bringing Mindy Lahiri and Danny Castellano — partners in crime, friendship and gynecological practice — together. (At the mouth.) I haven't quite recovered from the shock ending of the episode — though let's be honest, I still haven't really recovered from Danny's "you're a woman and that's good — look like a woman" speech from a few episodes ago.
While I wait 'til we're able to re-watch (and re-re-watch) the episode on Hulu, here are a few more of my favorite TV couple consummations from the recent past. (It goes without saying, can't wait to the see fallout when the series comes back in April.)
Mindy And Danny, "The Mindy Project"

What was I just talking about, guys? Like, just talking about? Of course this on here. Look at that. Guh.
Nick And Jess, "New Girl"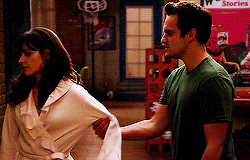 "The Mindy Project" isn't the only Tuesday night Fox show getting in on this action. "New Girl" roommates Nick and Jess got to it quicker than Danny and Mindy, but had a similar sneak-attack first kiss that exploded fangirls' (and boys') heads everywhere. And, if you'll recall through the static fuzz of your delighted screams, he said, "I meant something like that," right after. Yeah, he did.
Jim And Pam, "The Office"

Yeah, I know she was super-drunk and that the OTP of all office romances don't have their first real kiss for a while yet, but still. Just try and pretend like your heart didn't stop when this happened.
Luke And Lorelai, "Gilmore Girls"

Once he got that baseball cap off, Luke was more than just the dude who brought Stars Hollow's resident motormouth, Lorelai, her coffee. He was fooooine. After four seasons of banter, fans were more than ready for this Luke/Lorelai hookup.
House And Cuddy, "House"

It always seems to be the cranky ones, doesn't it? Regardless of House's frequently unlikeable remarks, dude was loveable nonetheless. I thought so, and Cuddy thought so too. Cue the Rihanna: They found love in a hopeless place.
Maeby And George Michael, "Arrested Development"

Wait, are they actually cousins? You have to admit, it's a little hard to keep track. Regardless, this one made me flail in a different way. (With laughter, guys.) Poor George Michael.