The Oscar nominations are in, and so, it is undeniable: years from now, when we look back at this moment in history, it will be known as the dawn of The McConaughssance.
The McConaughassance is shorthand for the year's most surprising Hollywood career makeover, which has seen Matthew McConaughey transform from a caricature of shirtless rom-com non-seriousness to a respected, multi-faceted, and now Oscar-nominated acting powerhouse.
Up until 2012, McConaughey was known primarily as a good-looking star of extremely shallow movies. But this year the actor shed 50 pounds for his role in "Dallas Buyers Club, " and showed audiences not only a frighteningly skeletal physique, but a depth of talent few knew he possessed. Though his nod from the Academy was more or less a foregone conclusion as of this morning's announcements, only a few years ago it was a development no one would have predicted... Including his past self. How might the McConaughey of old have reacted to the news of his Oscar nod?
For starters, he'd be very surprised.

Then, he'd get philosophical.

And he'd probably need to take a moment to collect his thoughts in, um, private...

...and prepare to meet his adoring public.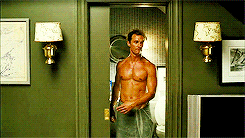 Of course, he'd try to pretend like he was taking it all in stride.

But inside? Pure celebration.