Hey, the Golden Globes were Sunday night! In case you missed it, your best friend Jennifer Lawrence totally won the evening just by JLaw-in' around.
What's that? You're tired of her and you hate her haircut and her crop tops that really shouldn't work but somehow do and how everyone loves her? Pipe down. We'll stop loving JLaw when she stops being so damn lovable.
That said, here are seven things JLaw did last night that totally made our hearts sing.
1. She Was High-Fashion Ariel

Wherever JLaw is where we can't see her, we want to be part of that world. Lawrence channeled "The Little Mermaid" last night in her Dior gown, and when asked how much the look retailed for, answered, "it won't cost much, just your voice." (Not really, but wouldn't it have been great if she had?)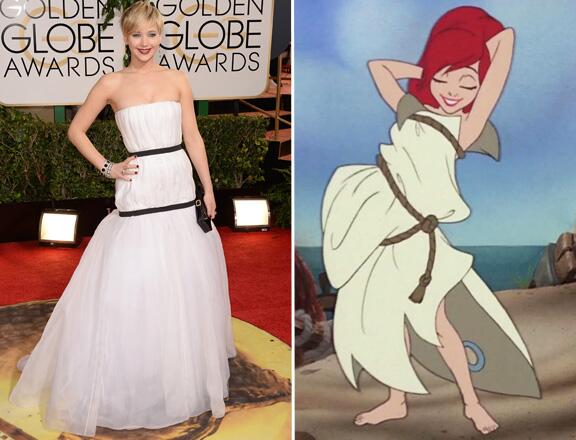 2. She Velociraptored TaySway
Creepers will creep, but we'll excuse the creeping when it's Katniss doing it. Perhaps to take attention off the vast height difference between singer Taylor Swift and E! red carpeteer Ryan Seacrest, Lawrence crept up behind the podium where Seacrest was conducting his interview. In the face of those calling it a photobomb, we'd argue that "a velociraptoring" is more appropriate. You know that if she wasn't holding onto that clutch and her skirt, she totally would have been making little claws with her hands. Velociraptoring: Let's make it a thing.
3. And She Had Big Plans

"I was gonna come in and push you down the stairs!" she said to Swift. Her prediction: Swift would have "loved it."
4. She Doesn't Need Her Mom's Supervision Anymore

"I was like no, and then the elevator doors closed."
5. She's Still Not Great at Giving Acceptance Speeches...

When Lawrence came onstage to accept her Best Supporting Actress award for "American Hustle," she managed to not trip coming up the steps (see ya never, Oscars 2013), but was notably breathless and gushy. "I don't know why it's so terrifying!" she interrupted herself, mid-speech, and later reminded herself, "Don't ever do this again!"
6. ...And Had the Best Excuse For That

In the press room later in the evening, Lawrence addressed her notably nervous-sounding speech.
"I need to catch up on my drinking. I think that's why I was so manic," she told the crowd. "Normally I have time to have a glass of wine... That's not a good answer."
We can respect that.
7. She Went Along With The Bit
Even Amy Poehler wants to be JLaw, and Amy Poehler has the distinct privilege of being Amy effing Poehler. Jennifer Lawrence is cool with it.