If you ever wondered just how a poised, graceful, super-celebrity like Jennifer Lawrence ended up tripping on the voluminous skirt of her Dior Couture gown and nearly eating the stage staircase at last year's Academy Awards, this is the answer you've been waiting for.
That answer is: Cake.
In an interview in this month's W Magazine Lawrence explained her big stumble thusly:
"I was at the Oscars, waiting to hear if my name was called, and I kept thinking, Cakewalk, cakewalk, cakewalk. I thought, Why is 'cakewalk' stuck in my head? And then, as I started to walk up the stairs and the fabric from my dress tucked under my feet, I realized my stylist had told me, 'Kick, walk, kick, walk.' You are supposed to kick the dress out while you walk, and I totally forgot because I was thinking about cake! And that's why I fell."
...And nobody was surprised. Because if you look back at J-Law's history, it's clear that there's rarely a time when the actress isn't thinking about food. Frankly, we're just amazed that she hasn't spent 90% of her life stumbling over her eating-related daydreams. Below, a roundup of the best moments from her well-documented preoccupation with...
Pizza...

And fries...

And popcorn...

And cake balls...

And pizza, again.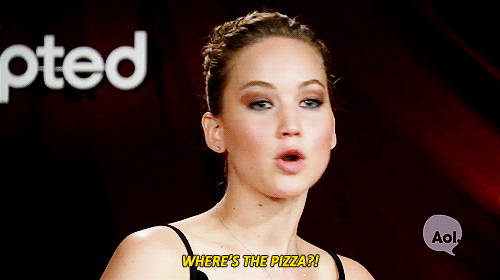 Often, J-Law's food obsession is completely non-specific.

Sometimes, it's the source of terrible disappointment.

Other times, it's her greatest source of joy.

Foodie on fire, we salute you.