Nothing says "holidays" like hordes of the undead, right? So treat that special "Walking Dead" fan in your life to something that will make their inevitable death and rebirth as an insatiably hungry monster a little more palatable:
Survivor Robe

It's the end of the world, so why not get comfy? Whether you're coming out of a shower (of blood), or just relaxing around your house (of death), this will keep you warm, right up until the end. [$49.99, ThinkGeek]
Zombie Leggings

Pretty much every one of Her Universe's "Walking Dead" products are awesome, but we love these zombie leggings the most. Plus they'll look great after your legs get ripped off, and you can look at 'em from across the room. [$27, Her Universe]
Check Out All Of MTV's Year-End Content Here!

The Walking Dead #1

Want a really high end "Walking Dead" gift? Then snag a pristine, preserved copy of the very first issue of the comic book for only $16k. The plastic case also makes a handy tool to smash undead skulls to smithereens. [$16,000, eBay]
Walking Dead Season 3 Limited Edition

Every year, McFarlane Toys releases a ridiculous box set for "The Walking Dead." Season 3 is a (mostly) fully operational stack of aquarium tanks filled with zombie heads, just like the ones owned by The Governor. Also there's some DVDs in there. [$154, Amazon]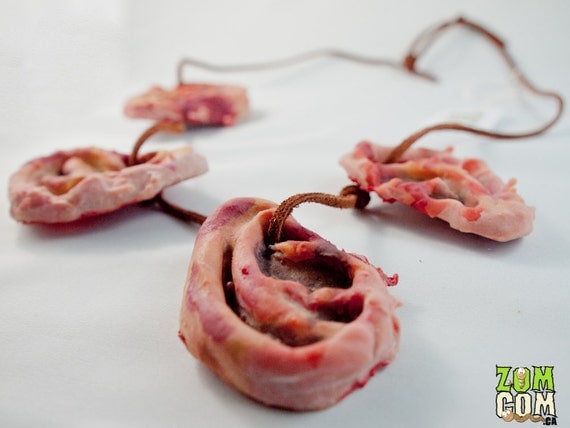 Ear Necklace

Inspired by Daryl's necklace from the show, this set of zombie ears will look gorgeous with your meat suit. [$25, Etsy]
Michonne And Glow In The Dark Pets

Funko has released a number of adorable little "Walking Dead" figurines, but this set featuring katana wielding Michonne, and her glow in the dark zombie pets is a good bang for your buck. [$24.99, Entertainment Earth]
Lifesize Cardboard Standup Posters

You'll probably never get Daryl, Rick, or Michonne to hang out in your house permanently; but for $35, you can get a life-size cardboard cut-out of the characters. [$34.95, Amazon]
Winged Leather Vest

There's plenty of cheap costume alternatives to Daryl's famous winged leather vest, but this one is a handmade replica that will make the giftee say, "I'm ready to eat squirrels!" [$80, TAG Graphics]
Zombie Bottle Opener

Because you're gonna be like the walking dead after you have a couple know what we mean HAHAHA. [$17.99, ThinkGeek]
The Walking Dead: Season Two -- A Telltale Game Series

Fans looking for something to scratch the "Walking Dead" itch during the time between half seasons couldn't do better than pre-ordering the second "season" of Telltale's award-winning game series. Following one of the only survivors from the first season, this immersive game experience is so good we have nothing snarky to say about it. [$22.49, Steam]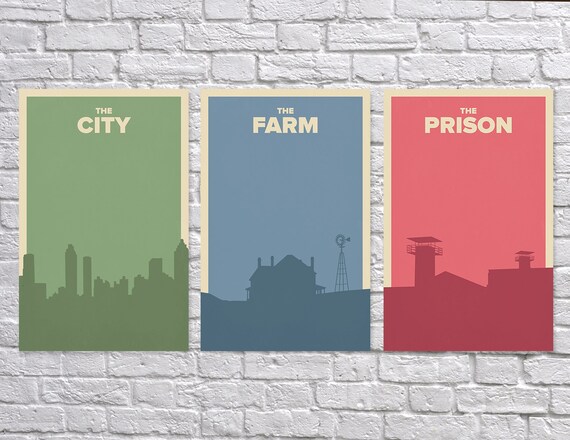 Minimalist Art Prints

These gorgeous art prints celebrate three of the best-known locations from the show. Wonder what the set will expand to by the end of this season? [$32.99, Etsy]
Governor Kill Them All! Shirt

This shirt celebrates one of the most famous moments in the comics, and one that just hit TV screens as well. Probably not advisable to wear through airline security during holiday travel, but all other times you're good to go. [$15.99, Entertainment Earth]
Original Comic Art

Charlie Adlard has been drawing "The Walking Dead" nearly since the beginning, and his visual style has influenced nearly everything about the show. Prices vary, but there's a good assortment of original comic book art on sale at his online store. [$150-$4500, Splashpage Comic Art]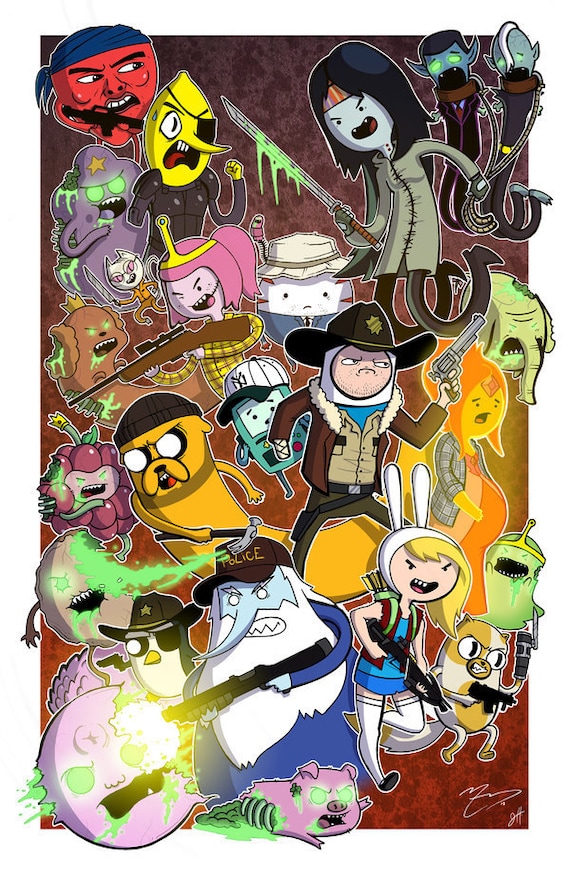 Deadventure Time Poster

BMO as Glenn is the best thing we've ever seen, though Fionna and Cake as Daryl and Merle is pretty great too. Aw heck, this "Walking Dead/Adventure Time" mash-up is totally math all over. [$20, Etsy]
Issue 100 Cover Rockmaster Electric Guitar

This is the exact same guitar they play the "Talking Dead" theme on! Just kidding. [$224.99, Entertainment Earth]
Michonne Signed Resin Statue

This awesome McFarlane statue of Michonne slicing up some walkers comes hand-signed by creator Robert Kirkman. [$342, Amazon]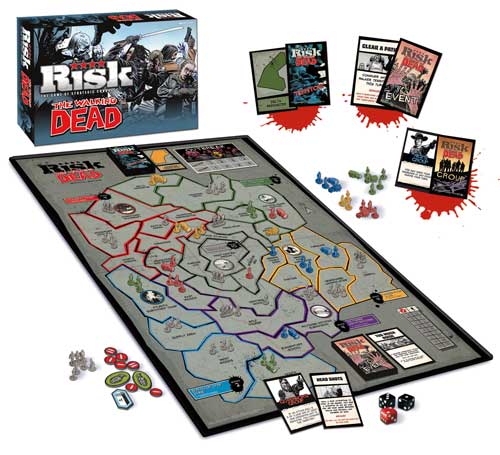 Monopoly/Risk

Pick up "Walking Dead" themed copies of your favorite board games! Both have been changed to fit the world of the comic and TV show, and also have unique rules that play into the survival aspect of "Walking Dead". [$49.99/$39.99, Diamond]
Omnibus Volume 1

This collection features the first 24 issues of the comic, a perfect primer for anyone looking to make the transition from screen to page. [$65.91, Amazon]
Horde 2 Vannen Watch

It's not coming out until January, but Vannen always makes reliable, fashionable timepieces. This one is based on art from the comic. [$59.99, Entertainment Earth]
Rick Grimes Badge Prop Replica

Remember when Rick was a sheriff? Good times. Here you can relive those moments with an authentic framed replica of his badge, as well as a replica of Andrew Lincoln's signature on what looks like a bloody paper bag. [$98.99, Entertainment Earth]
Table Lamp

Shine a little light on the apocalypse with this zombie hand lamp! [$44.99, Amazon]