You may only know her as the voice of Edna Krabappel, Bart's acerbic teacher on "The Simpsons." But Marcia Wallace, who passed away at the age of 70 on Friday, has had a storied history on TV. She first appeared on "Bewitched," in 1971, before taking regular roles on "The Bob Newhart Show," "Full House" and many more.
Still, it's her delivery of the simple line, "Hah!" for which Wallace will probably be best remembered. Though the character will be retired this season in honor of Wallace, we'll always have 25 amazing seasons of Edna Krabappel episodes to revisit. Here's five of our favorite episodes featuring Springfield's worst/best teacher:
Bart The Lover
One of the most heartbreaking — and hilarious — episodes "The Simpsons" has ever created, Bart decides to cheer up his perpetually single teacher by creating a fake beau for her to fall in love with. Taking his name from President Woodrow Wilson, and his picture from hockey star Gordie Howe, Bart creates Edna's perfect man. But when "Woodrow" doesn't show up to their date, it breaks her heart. Bart makes things better by crafting a letter explaining why "Woodrow" needed to leave town, and why he'll always love Edna in a sweet, funny scene that caps the episode.
Bart Gets An F
The most watched episode in the history of "The Simpsons," "Bart Gets An F" was also really the first to flesh out the relationship between Krabappel and her worst student. After faking a book report, Bart is told that if his grades don't shape up he'll have to repeat the fourth grade. He procrastinates, Edna and Bart butt heads, until finally Bart breaks down and studies — only to still fail a test on colonial America. Bart breaks down crying, and compares his plight to one involving George Washington, prompting Krabappel to bump his grade to a passing D minus.
The PTA Disbands
After a disastrous field trip, Edna leads the rest of the teacher's union on strike. A hilarious episode from top to bottom, first Bart tries to egg on the strike so he can stay home longer, but soon finds out that being constantly babied by his mother, Marge, is worse than a day at school. Bart instead manipulates Krabappel and Principal Skinner into patching things up and gets a little more money for the school by renting out the back of classrooms to the local, over-stuffed prisons.
Grade-School Confidential
For a long time, Edna Krabappel was defined by two things: her relationship with Bart, and her lack of relationship with anyone else. It took eight seasons, but in this surprisingly romantic episode, Krabappel finally got a steady boyfriend with mama's boy — and school principal — Seymour Skinner. The duo keep their relationship a secret, until Bart outs them, leading to the pair getting fired and holing up in the school gym. Things sort themselves out once Skinner announces he's a 44-year-old virgin (why would anyone lie about that?), convincing everyone there's no way he and Krabappel are really in a relationship. But they are: publicly, they're co-workers; but a secret tryst in the closet shows they're really together, and things were never the same.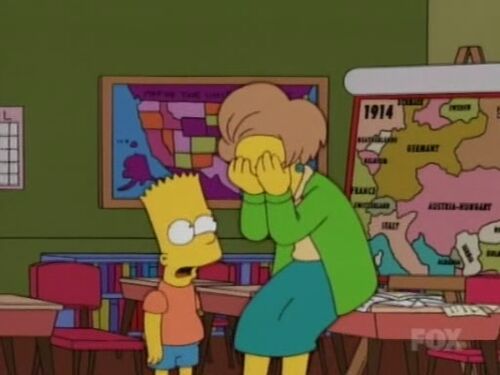 Special Edna
Edna and Seymour's relationship hits a crossroads when he can't leave his overbearing mother. So Bart ends up nominating Krabappel for a Teacher-of-the-Year award to cheer her up. What follows is a ridiculous parody of EPCOT (home of the awards), but also a lovely, romantic marriage proposal from Skinner. It wouldn't last — in later episodes, the wedding fell apart, and Krabappel recently married Ned Flanders — but for a short time, we believed that a terrible teacher and a mother-loving principal could find happiness.
What's your favorite Edna Kradappel moment? Let us know in the comments below!