It's the day that gay-marriage supporters have been waiting years for. As the nine justices heard arguments about the constitutionality of California's Proposition 8 — a 2008 constitutional amendment limiting marriage to one-man, one-woman couples — stars took to Twitter to voice their support for marriage equality.
"I agree," was the simple message from Oscar-winning director/actor Ben Affleck, one of many celebs who retweeted a message from President Obama. "RT if you agree. #MarriageEquality," Obama wrote, linking to an image of himself with the quote, "Same-sex couples should be able to get married."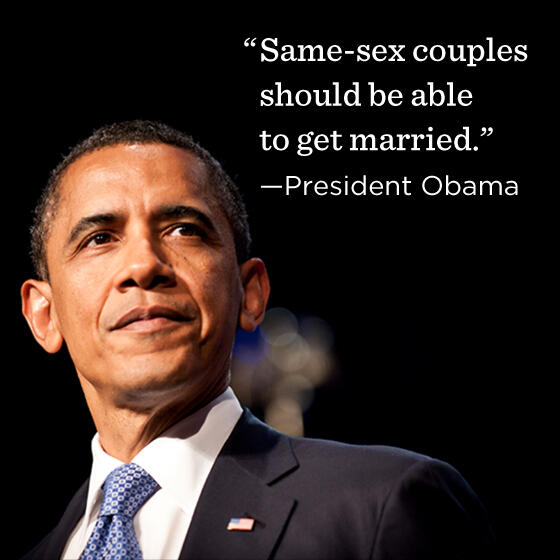 Actress Evan Rachel Wood also weighed in a number of times, writing, "I am seeing lots of red squares on Twitter today. Nicely done guys! Spread the word. Change your pic. #equality." Husband Jamie Bell also did his bit, uploading an image of the marriage-equality symbol. In fact, the red equal sign became a viral sensation Tuesday (March 26), with many Facebook and Twitter users changing their avatars to show support.
Among the others who voiced support were Minka Kelly, "Star Trek Into Darkness" writer Damon Lindelof, singer Sara Bareilles, Alyssa Milano, hip-hop mogul Russell Simmons, "Top Chef" host Padma Lakshmi, Oscar-winning "Milk" screenwriter Dustin Lance Black and "Modern Family" star Jesse Tyler Ferguson, who referenced "Lincoln" when he said, "SCOTUS: When Steven Spielberg & Tony Kushner make the movie about today you are going to want to be the Tommy Lee Jones not the Lee Pace."
Lindelof's comment was among the most powerful, telling his fans, "If you're against marriage equality, please unfollow me. You can hate 'Lost' all you want, but you can't hate love."
Supreme Court, stop acting like cowards.Now IS the time for a broad ruling to make the leap into the 20th century. --Sincerely, the 21st.

— Seth MacFarlane (@SethMacFarlane) March 26, 2013
Also offering their support were Katie Couric and Decemberists singer Colin Meloy, who offered, "So many old, frightened men making old, frightened decisions. #SCOTUS #northdakota," with the latter a reference to the state's new anti-abortion law, which is now the strongest in the country.
Support was just as strong from "Ted" director and Oscar host Seth MacFarlane. "Supreme Court, stop acting like cowards," he wrote. "Now IS the time for a broad ruling to make the leap into the 20th Century. Sincerely, the 21st."
On the same day the court took up the case, Interview magazine posted the text of a cover story on A$AP Rocky in which the "F---in' Problems" MC joined fellow rappers Jay-Z and 50 Cent in supporting gay rights.
Openly gay pop star and father of twins Ricky Martin kept it simple, putting up every hashtag he could think of to get his 8.3 million followers to voice their opinions. "Supreme Court #SCOTUS #Prop8 #UnitedForMarriage #Time4Marriage #loveconquershate #OneMomAndOneDadisOK #TwoDadsIsOK #TwoMomsIsOK," he tweeted.
Of course, not everyone was so serious as they awaited word on how it seemed the justices were leaning. Satirical newspaper/website The Onion took its hilariously contrarian path. "Supreme Court On Gay Marriage: 'Sure, Who Cares?' " read its headline.
At press time, reports from inside the court painted a divided panel that seemed reluctant to issue a sweeping constitutional order clearing the way for gay marriage in all 50 states.