From her daring stage persona (which she had on full display earlier this week for "MTV's Club NYE 2013") to her sassy dance tracks, Ke$ha seems totally comfortable being a glittering pop personality. And her confidence is unwavering — even if you're not buying into Ke$ha as much as she is.
"I used [negative comments] to motivate me then, and I still do. I remember every person who told me I couldn't do something or that I was ugly or too fat. I have a 'sh-- list' — people from my past who have been soulless and judgmental," she says in the latest issue of Seventeen. "Even after I got through my awkward phase, got my braces off and figured out how to dress my body, people in the music business were like, 'You're never going to make it.' I see them now and I'm like, 'Ha!' That's one of the reasons I named my record Warrior. You can be a victim and let that eat your soul, or you can say, 'You're going on my list and I'm going to prove you wrong!' "
One listen to Warrior and it's clear Ke$ha is not only cool with kissing off ex-lovers, but also putting her wit on full display. Sometimes that sense of humor is focused on herself from time to time. "I'm very much into making fun of myself because other people do it so you have to be able to laugh at yourself," she said. "The sooner you can laugh at yourself, the easier your life will be."
Ke$ha is all about acceptance for many reasons, notably because she's witnessed firsthand some of the hate that her younger sibling has received. "I'm all about standing up to gay/lesbian/transgender bullying, but it's also about my little brother," she said. "He's 13 and he gets made fun of because he has a stutter. I just have zero tolerance for people making fun of others."
As for who she's crushing on now (and those folks who may make for muses for future music), she added that it could be just about anybody. "I don't love just men. I love people. It's not about a gender," she shared about her personal life. "It's just about the spirit that exudes from that other person you're with."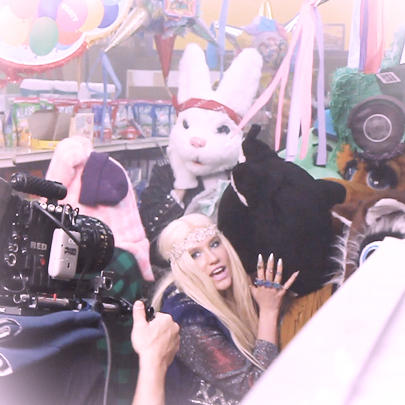 With 2012 behind her, Ke$ha has some big plans for this year. After courting some controversy regarding statements she made about her single "Die Young" (which had been pulled by radio stations following the Sandy Hook tragedy), she is next slated to drop the single "C'mon" off Warrior. A release date for the "C'mon" video has yet to be confirmed by K-Dollar Sign, who tweeted a photo from the set late last month.
"WTF what is going on??? Will have to wait to find out #C'MON music video," she tweeted, including a photo of herself hanging out with a giant rabbit.